Tun Tavern Current Beer Selection
The Tun Tavern at the Diving Horse Brewing Company pays homage to one of the oldest brew pubs in the country. And as Atlantic City's first and only brew pub, it's safe to say that we know our beers. It's even in our name, Tun, it's old slang for "A lot of beer." But if you want to be exact, a tun equals four hogsheads… whatever that means. Our brewmaster, Will Mink, made brewing his passion. He takes a lot of pride, and a little too much pleasure, in creating the best tasting beers for our customers.
Only at the Tun Tavern can you drink our widely beloved Diving Horse IPA directly from the source as intended. We offer a variety of beers that change to fit the time of the season. Can't decide on a beer? Sample them out! We offer a five 2 oz sampler flight. Make sure you try them all before the seasonals run out! But don't worry, we'll never run out of beer!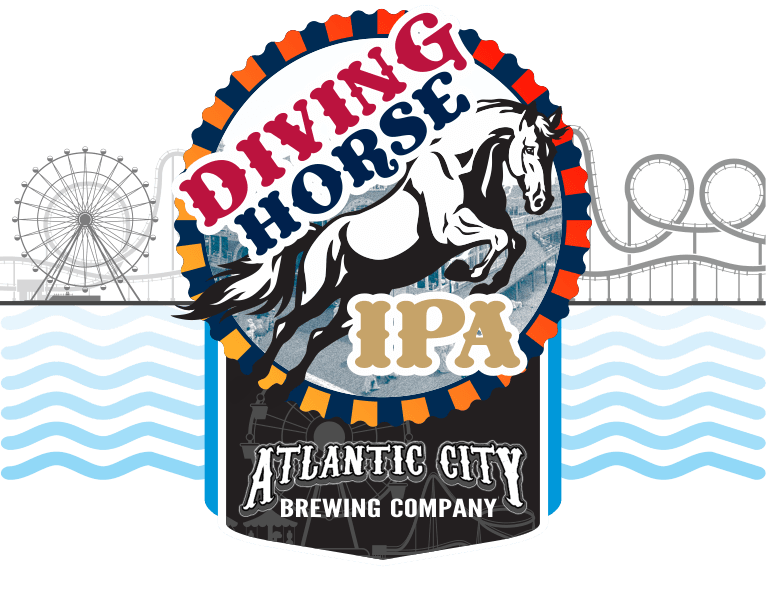 Diving Horse Hazy IPA
6.8% APV : IPA
An unfiltered New England Style IPA brewed with wheat & oats. This beer was hopped in the kettle and dry hopped with Amarillo, Mosaic and Citra. Upfront flavors and aromas of tropical fruit, melon and citrus.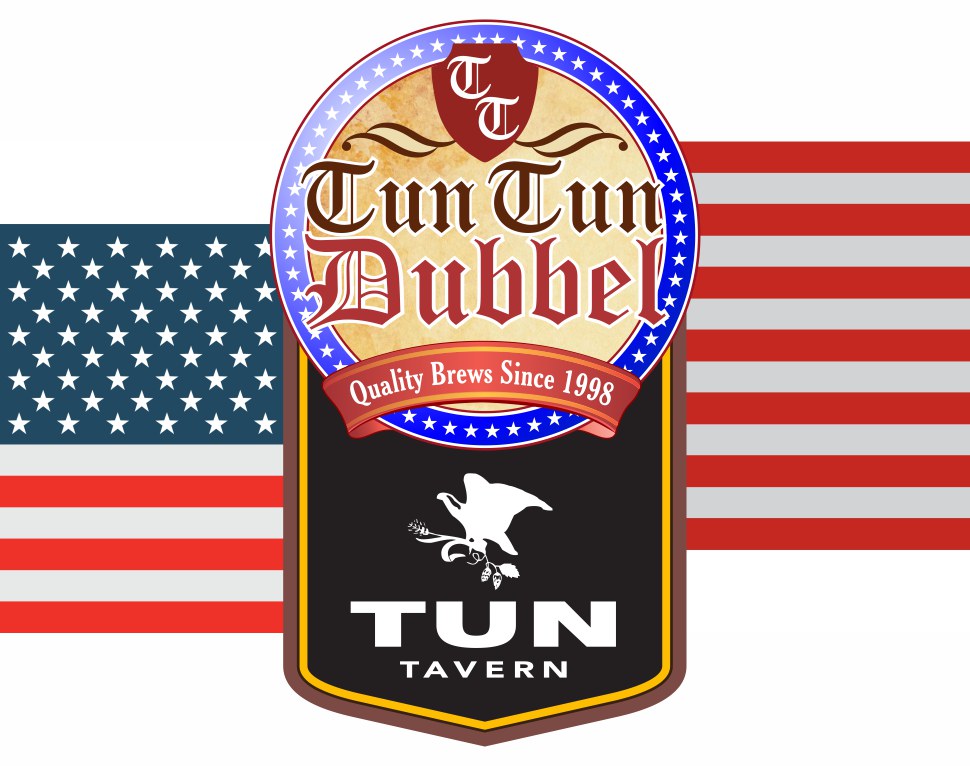 Tun Tun Dubbel
6.7% ABV : Belgian Dubbel
Flavors and aromas of caramel and stone fruit abound in this medium-bodied dark Belgian ale. A dry finish makes for a surprisingly drinkable treat.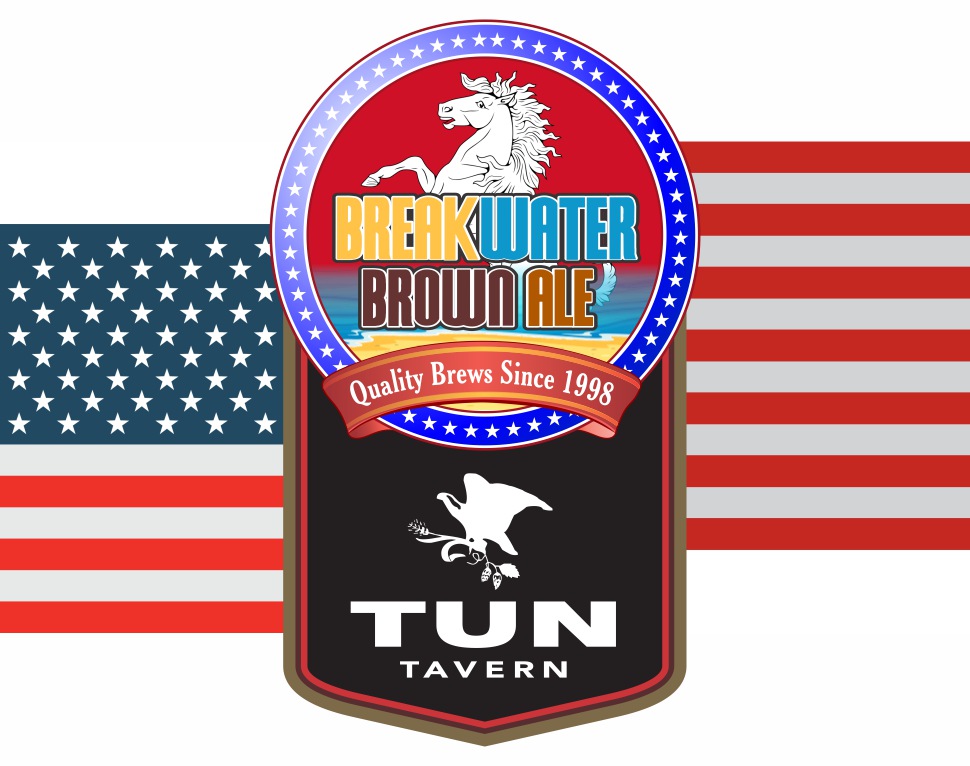 Breakwater Brown Ale
5.4% ABV : Nut Brown Ale
East Kent Goldings hops combine with dark malt varieties to create a well-balanced brown ale with aromas of nuts and spices, and flavors of chocolate and caramel. Served exclusively on nitro for that traditional English pub feel.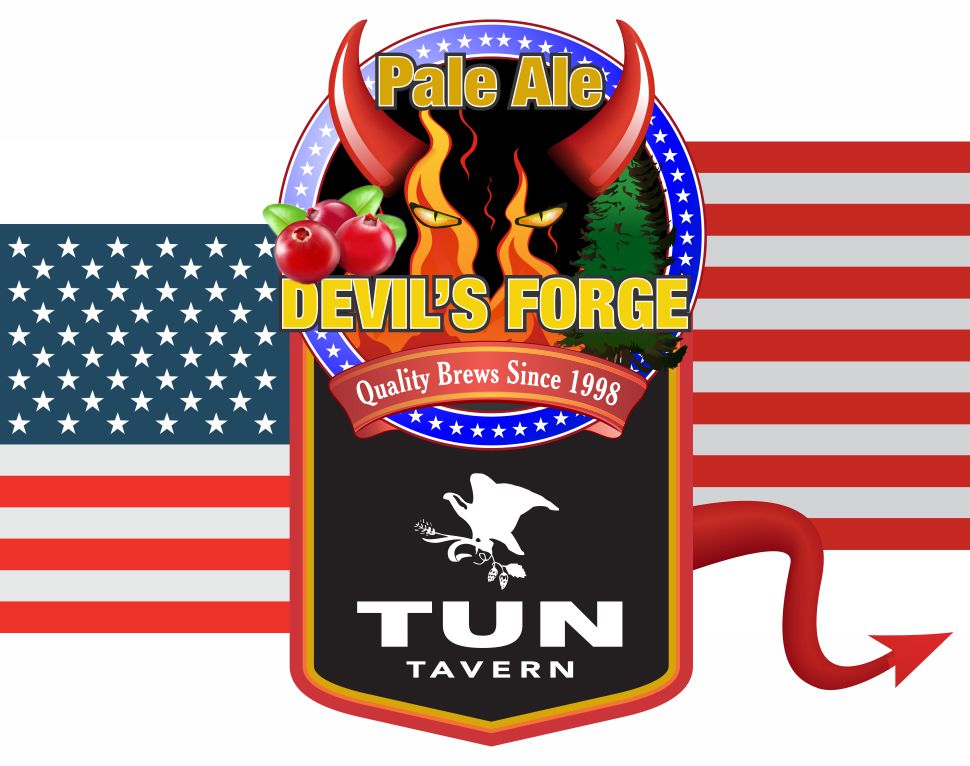 Devil's Forge
5.2% ABV : Pale Ale
Inspired by the flavors, aromas, and folklore of the New Jersey Pine Barrens, this pale ale was brewed with pine, aged on Atlantic White Cedar, and flavored with a hint of cranberry. Complex but refreshing, this beer is reminiscent of a day spent floating down the Mullica River, hiking the Batona Trail, or simply relaxing under a canopy of pine and cedar trees.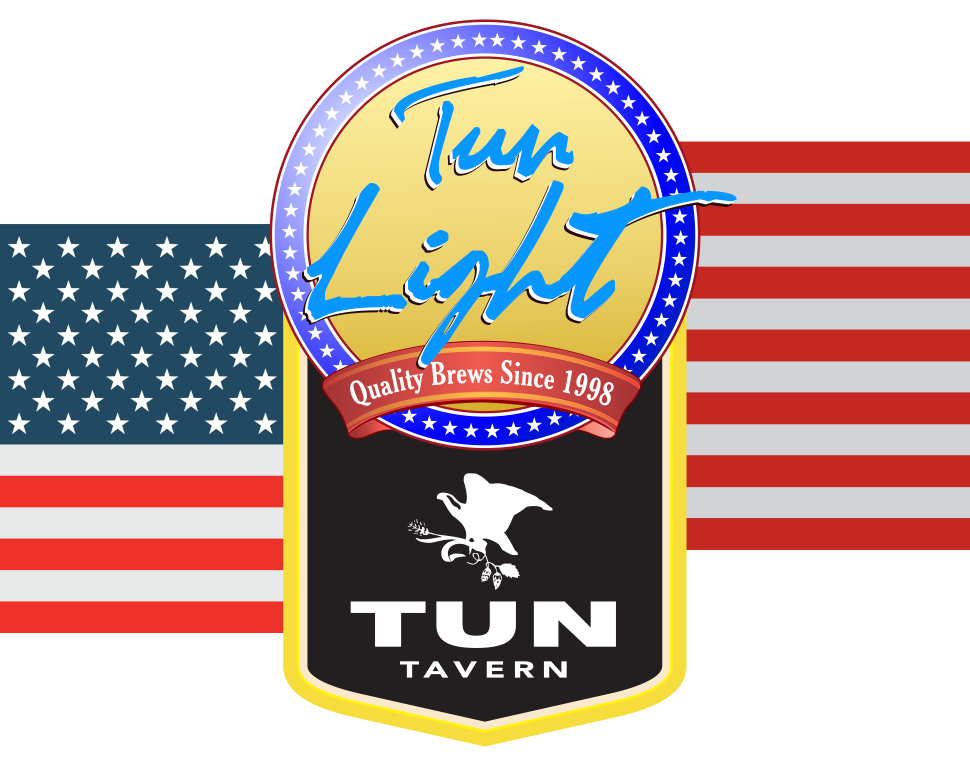 Tun Light
4.7% ABV : American Light Lager
Light in body, with a crisp, clean, and refreshing finish. Subtle malt and hop character make this beer extremely drinkable.
Dawn's Early Light
5.5% ABV : Maibock
A slightly lighter take on a seasonal German classic. Earthy, floral hop notes blend with a subtle malt character to create a refreshing, extremely drinkable spring treat. Best served with a slice of lime.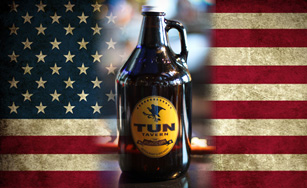 Tun Growlers
Take home a Growler
$24 Filled - Refills only $16. With your Growler Card fill up six times and the seventh time is on us! (Seasonal and tun tavern brewery has growlers available Specialty Beers may be priced slightly higher).
Tun Crowlers
Take Home a Crowler
$24 Filled - Refills only $16. With your Growler Card fill up six times and the seventh time is on us! (Seasonal and Specialty Beers may be priced slightly higher).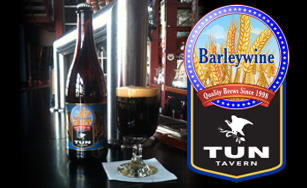 Barleywine
OG:28 FG:6.7 IBU:70 ABV:11
American style barley wine: amber to deep copper-garnet in color; full body and high residual malty sweetness; Complexity of alcohols and fruity-ester characters are high and counter-balanced by assertive bitterness and extraordinary alcohol content. Hop aroma and flavor are at medium to very high levels. A caramel and/or toffee aroma and flavor are part of the character. Aged on rum soaked French oak, generously dry hopped with American Cascade hops. *Currently Available in Bottles Only
Will Mink Is Tun Tavern's Brewmaster
Will's love for beer started in college, and after spending a semester in Belgium in 2010, he knew he wanted to turn it into a career. After a brief stint as a bottling line operator at River Horse Brewing Co. in early 2014, he was brought on as an assistant brewer at Iron Hill Brewery & Restaurant, eventually landing himself the role of head brewer at their Phoenixville, PA location. As a lifelong surfer, the landlocked Pennsylvania life never quite suited him, and he jumped at the chance to brew at the Tun Tavern, where diving in the ocean before work every day could become a reality, rather than a dream. Will's favorite beers to both brew and drink are German Lagers. He looks forward to serving you these, as well as a wide variety of other beer styles.